Sweet Corn Panna Cotta with Mixed Berries Jelly by: Chef Benedict Baladad Ingredients: 1 cup  fresh milk 1 cup  heavy cream 2 cup  evaporated milk 1 cup  sweet corn cream style 1 cup  sweet corn kernels 1 tsp vanilla 1/2 cup white sugar 3 tbsp gelatin powder Mixed berry jelly: 1 pack strawberry jelly (cooked accdg to package directions) 1 cup Harvestime mixed berries Garnish: cashew nuts White chocolate Milk chocolate   Procedure: Put all ingredients except sugar and gelatin in the blender then pulse until corn has already mixed Put them into the pan then heat and...
---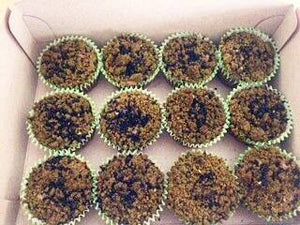 Harvestime Mixed Berries Cupcakes with Green Tea Crumbs by Chef Benedict BaladadIngredients:1 cup cake flour½ cup sugar½ cup Harvestine frozen raspberries½ cup Harvestime frozen blueberries½ cup Harvestime frozen strawberries1 tsp baking powder½ cup butter1 pc egg1 tsp vanilla extract1 cup all purpose flour½ cup brown sugar1 tsp Japanese green tea powder "matcha"1 tbsp black sesame seedsProcedure:1.) cream the butter and sugar in the mixer until light and pale in color2.) add the egg and vanilla extract and continue3.) add flour and baking powder then continue to mix4.) add all thawed frozen berries and continue5.) scoop the batter to the cupcake...
---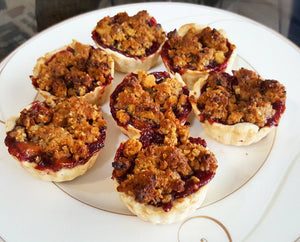 HARVESTIME SPICED FRUIT TARTSBy: Pastry Chef Benedict BaladadINGREDIENTS:For filling:50 g Harvestime frozen ripe mangoes50 g peaches50 g Harvestime frozen plums50 g Harvestime frozen black/sweet cherries50 g Harvestime frozen strawberries50 g Harvestime frozen raspberries½ cup brown sugar1 tsp vanilla extract½ tsp ground cinnamon½ tsp ground nutmeg½ tsp ground cloves2 pcs star anise1 tbsp cornstarch½ cup waterFor pie crust: 1 cup all purpose flour¼ cup margarine¼ cup shortening1 tsp salt¼ cup cold water1 tbsp sugarFor crumb mixture:6 pcs amaretti biscuits "crushed"1 tbsp peach syrupPROCEDURE:1.) Put all the ingredients for the filling (not including cornstarch and water) in the pot then cook it...